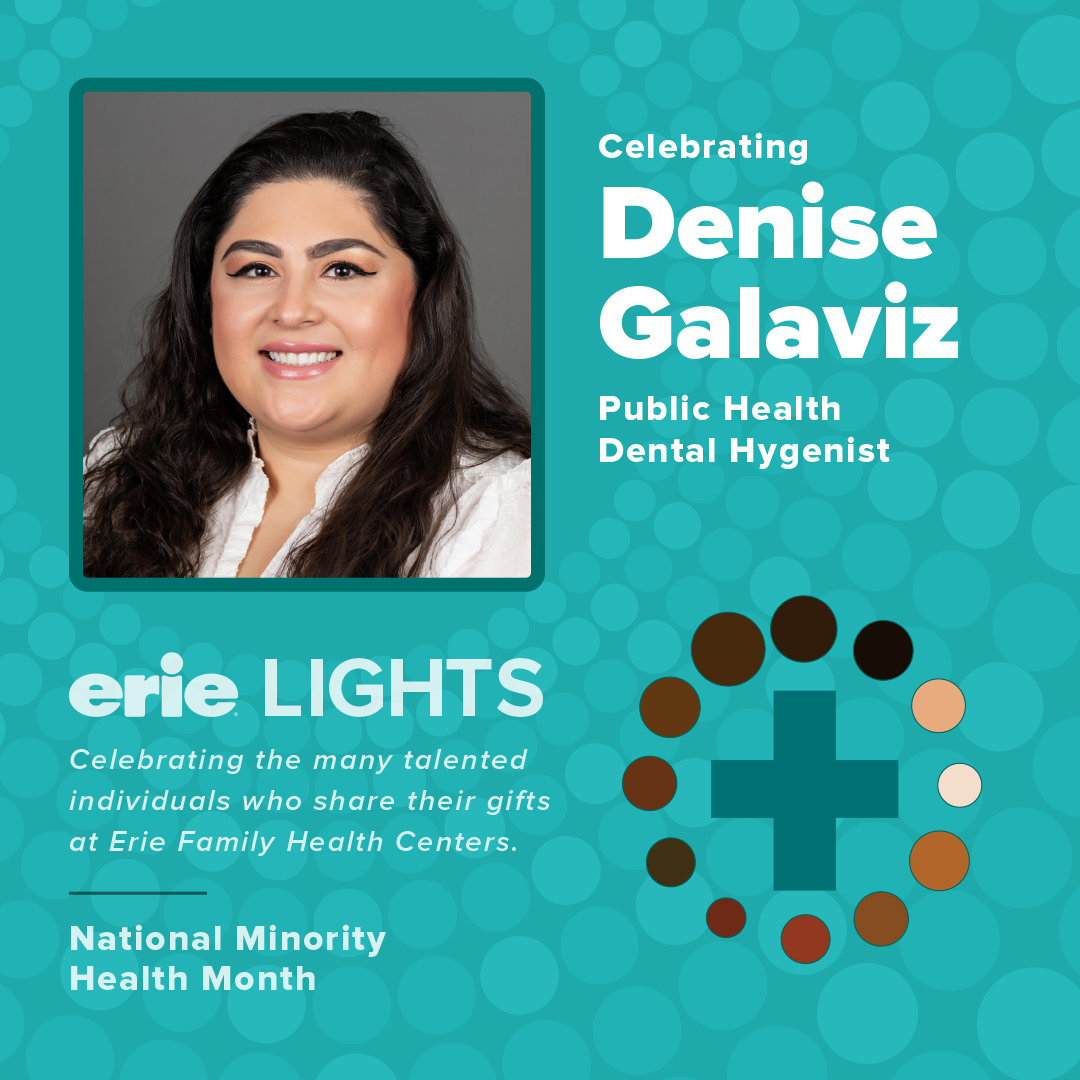 Denise Galaviz is a dedicated Public Health Dental Hygienist who has served at Erie for almost a decade. Her previous work at a former Lake County clinic inspired her to join Erie and continue positively impacting underserved communities. Denise's day-to-day work involves providing access to dental care and oral health education, which helps improve the lives of her patients. Through her work, she encourages minorities to ask more questions and seek help to strengthen their physical and oral health.
What was your journey before joining Erie?
I was a full-time Dental Assistant at two different dental offices. At the same time, I was a part-time student at the College of Lake County working towards my degree in science and applying for the Dental Hygiene program.
What brought you to Erie? 
I was working at the only free clinic in Lake County, Illinois, as a Dental Assistant. Unfortunately, the clinic closed, but it was also a blessing that Erie Family Health Centers came along and opened a new clinic in Waukegan. They helped existing patients of HealthReach transition care to Erie. I also transitioned to work at Erie. This is why Erie in Waukegan is named Erie HealthReach Waukegan - in honor of HealthReach Inc.
Can you walk us through a day in the life of a Public Health Dental Hygienist? 
Once I get to the office, I start reviewing my schedule and patient charts. I make sure my dental exam room is stocked with the equipment and materials I will need for the day. Once the first patient arrives, I put on proper PPE. I greet my patient, take them to the dental exam room, review patient information together including medical history, and begin a conversation – asking them questions about their dental health. I complete caries risk and gum disease assessments on the patient, oral cancer screening, chart their dentition, measure their gums, take diagnostic radiographic images of their teeth and make treatment plans. I also provide dental cleanings, sealant, fluoride, and silver diamine applications. I provide oral health education, nutrition counseling, make referrals and follow up on them. I work together with my amazing dental team, and we work hard to provide the best dental care to our patients. As a Public Health Dental Hygienist, I provide access to dental care even when the dentist is not available to come to the office.
What is the best part of your job? 
Meeting new people and getting to know them on a personal level. I also enjoy watching their health improve by my helping them and knowing that I made a positive impact in their life.
What do you enjoy doing in your free time?
Spending time with family and my cuddly pug. I like trying new de-stress and relaxation exercises such as Yoga Nidra classes.
What is something that most people don't know about you? 
I practice Feng Shui. I try to balance my home with the five elements – earth, metal, water, wood, and fire – by arranging objects in a particular space to achieve harmony and peace.
Do you have a favorite tv show or movie?  
My favorite show is The Price is Right. One day I will be at that show and win the money and the car!
What is something you're looking forward to doing this Spring?  
Getting the yard ready for gardening and taking Easter bunny photos with my new baby and her sister.
What advice do you wish you received that you would give to someone else? 
Start saving money as early as you can. Put some of your income into a diversified portfolio of investments, invest in passive income opportunities early on, and maximize your retirement contributions each year.
What can we do to encourage people within minority communities to take care of their dental and overall health?  
I think we all need to gain more awareness and understanding of the different situations we all have when it comes to our health. We need not to be afraid to ask questions or feel embarrassed of how long it's been since going to the dentist or doctor. We need to deepen our relationships with our medical and dental providers. As minorities we need to make our providers more aware of our unique cultures so they can target our specific needs for optimal health. By listening and understanding we can try to motivate one another.