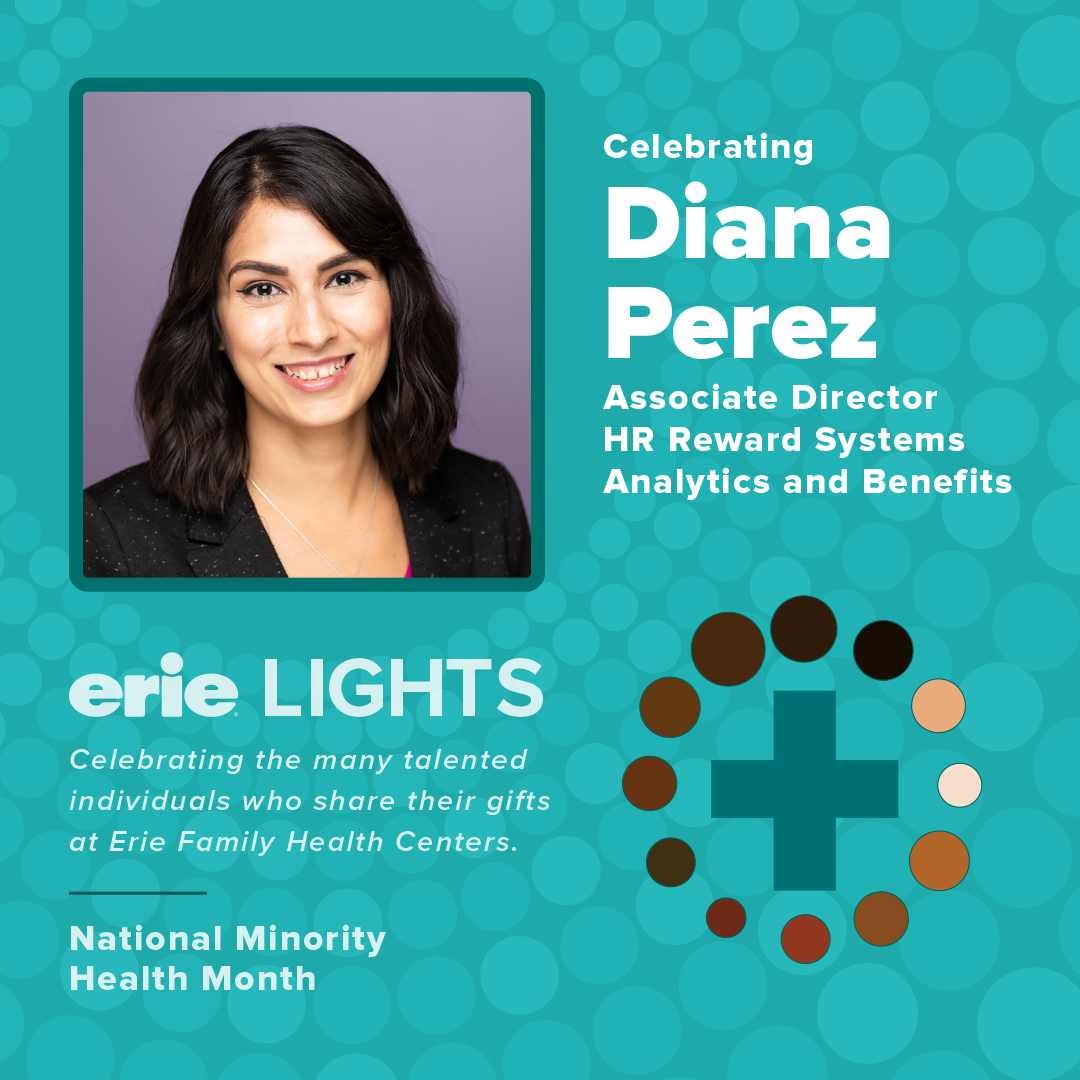 Through her work as an Associate Director of Human Resources Reward Systems Analytics and Benefits, Diana Perez strives to support Erie's mission of providing access to quality health care and education for those in need. Diana is committed to helping the organization positively impact underserved communities.
What was your journey before joining Erie?
I started at Northwestern Business College then transferred to DePaul. While at school, I worked at Target. I worked there for six years. One of my team leaders at Target suggested that I look into office work and that HR would be a good fit for me. After I graduated from DePaul with my business administration degree, I interned in the HR office of Sports Service at US Cellular Field, now known as Guaranteed Rate Field. They handle the concession stands and retail at baseball games. I saw a different aspect of HR while working for them. I stayed there for two seasons, and then I needed to look for something permanent.
What brought you to Erie?
I found Erie through a nonprofit's website. Since I had been at for-profits before, I wanted to work somewhere that cared about the whole community and not about making money. All I ever heard was "We're not profitable this week or this month". It was nice to be in a different environment.
Can you walk us through a day in the life of an Associate Director of HR Reward Systems Analytics and Benefits?
In my role, I work with compensation, analytics, and benefits. A lot of my day is spent working with our teams on compensation. When we have candidates for new hires or promotions, I look at the candidate's history, look at their compensation, and see how they align with our roles. We do a lot of analytics that pertain to retention. It gives us information on deciding what to change if something big were to impact a department.
What do you enjoy doing in your free time?
I have a seven-year-old daughter, so I like spending time with her. We enjoy crafting. She loves to keep cardboard boxes, and then we'll make an airplane out of it and travel around different places. I also want to be fit and healthy for her. I do a lot of exercises. I usually start my day by riding my bike. I used to be a big runner. I would run every day. My goal is to be able to run every day again.
What is something that most people don't know about you?
I used to play the saxophone in high school. I also like to travel. My dad owns land upstate, a ranch, so I used to ride horses when I was younger, and we used to do parades, like the Mexican Independence parades, every year when I was younger.
If you could have any superpower, what would it be and why?
The power to teleport.
What is the best vacation you've ever taken or the best place you've ever been to?
When I graduated from college, I went to Greece with my husband, which was fun. We went to Santorini, and it was the prettiest place I've ever seen, and I would like to return.
What advice have you received that you would give to someone else?
When I was working at Target a colleague once said to never underestimate yourself and to always accept compliments. Every time I try to downplay my wins, what she said comes back to me; I allow the moment to happen because it's almost like the doubt that you're having is changing what other people are thinking about you, and it just doesn't make any sense. There are plenty of people that are negative out there. There's no reason for you to add to it.
What can we do to encourage people within minority communities to take better care of their overall health?
I started going to see a doctor when I became an adult and started working here. Growing up, getting yearly checkups wasn't a thing. We went to the doctor if things got bad, and it was usually after trying all the home remedies. Education is so important. People need to know why they need to care for their health. Education in the community and having resources such as the classes our health promotions team offer, where they talk about how to take better care of yourselves and why checking up with your doctor is important, is helpful.