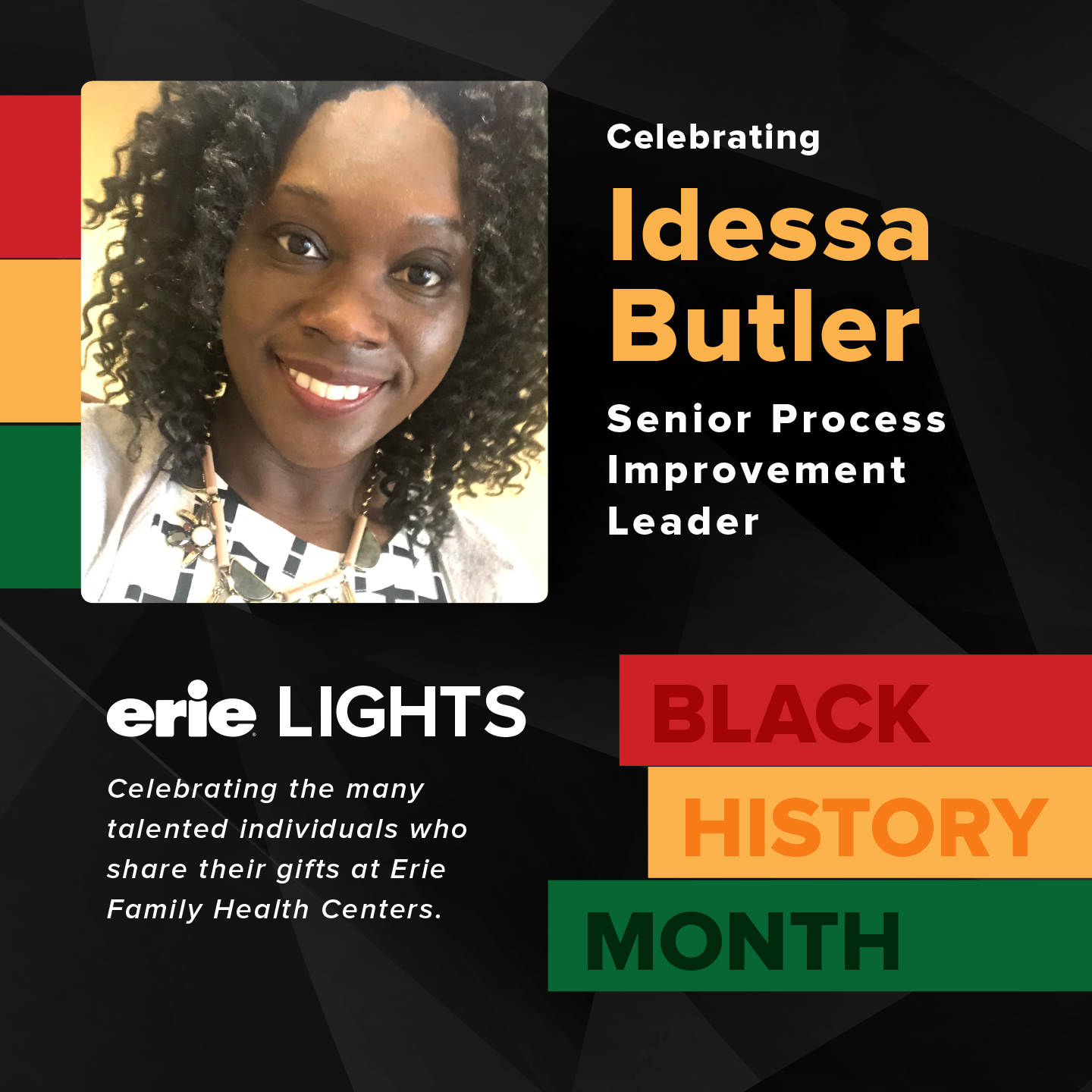 Idessa Butler found her passion for serving others in the community and in healthcare at the University of Illinois at Urbana-Champaign (UIUC), where she received her bachelor's degree in Community Health. Since then, she has made her mark in healthcare through many years of risk management. Today, Idessa serves as Senior Process Improvement Leader at Erie Family Health Centers, where she cares for Erie patients and staff daily. "Growing up on the West Side, FQHCs like Erie were pivotal to a community," Idessa stated. "I was blessed to have access to this resource through my community involvement."
What was your journey before joining Erie? 
I am originally from the West Side of Chicago, where most of my family still resides. I studied at the University of Illinois at Urbana-Champaign. U of I is where I found my passion for healthcare. I received a degree in Healthcare Administration and, not long after, a Master of Business Administration and a Master of Jurisprudence in Health Law. 
 Can you tell us about a moment in Black history that influenced or shaped your career or life? 
Barack Obama's presidency had a huge impact on my life. I had the opportunity to meet the then-Senator when he came to speak at my high school. He spoke with such confidence and poise, and I could not help but feel proud to be part of that moment. After his speech, I had the opportunity, amongst a few other students, to speak to him 1:1. It was one of the best experiences of my life. 
Can you walk us through a day in the life of a Senior Process Improvement Leader? 
As a PI Leader, I work alongside leadership to solve and improve internal processes. The PI team facilitates meetings, trainings, and discussions Erie-wide. In addition to being facilitators, we're also assigned to provide project management support to teams. My primary role is to manage project scope, risks, metrics, and tasks to ensure that everything is completed on time and at the highest quality possible. 
 Can you tell me about a time someone on your team or a patient inspired you? 
I am inspired daily by my colleagues at Erie. Everyone at Erie has so much passion and is dedicated to the mission. 
What's the best professional advice you have ever received? 
Be a lifetime learner! 
If you could wake up tomorrow with a new skill, what would it be? 
I would want to learn how to play an instrument like the piano. Being able to play an instrument and read music helps with memorization and makes you feel good. 
 Do you have a favorite quote or mantra? 
"Be the change you wish to see in the world." Mahatma Gandhi 
What is something that most people don't know about you? 
Before the pandemic, I was a competitive Powerlifter. I competed in several competitions throughout the state and won first place. 
What is something you're looking forward to doing in 2023? 
Later this quarter, I am expecting my first child! I am looking forward to spending time with my new addition. 
How important is representation to you in healthcare and the community? 
Similar to most things in life, representation matters because it gives others looking on the outside a chance to say, "I can do this too." Healthcare is a forever-changing cycle that can seem intimidating and scary for patients. As advocates, we are responsible for ensuring that patients feel comfortable and secure when they visit any of our clinics. Erie having a diverse workforce makes more patients choose us over other healthcare organizations. 
Why do you think celebrating Black History Month is important? 
Celebrating Black History allows me time to reflect on my ancestors' resilience and ingenuity despite unimaginable challenges. It is a time to teach and remind everyone of the history lessons that might not be taught as part of the everyday school curriculum. The importance of Black History Month is to honor and celebrate the lives and achievements of African Americans who have made transformational impacts on American society. By coming together to celebrate black culture and history, we can continue to rewrite the narrative of our nation and keep these stories alive.