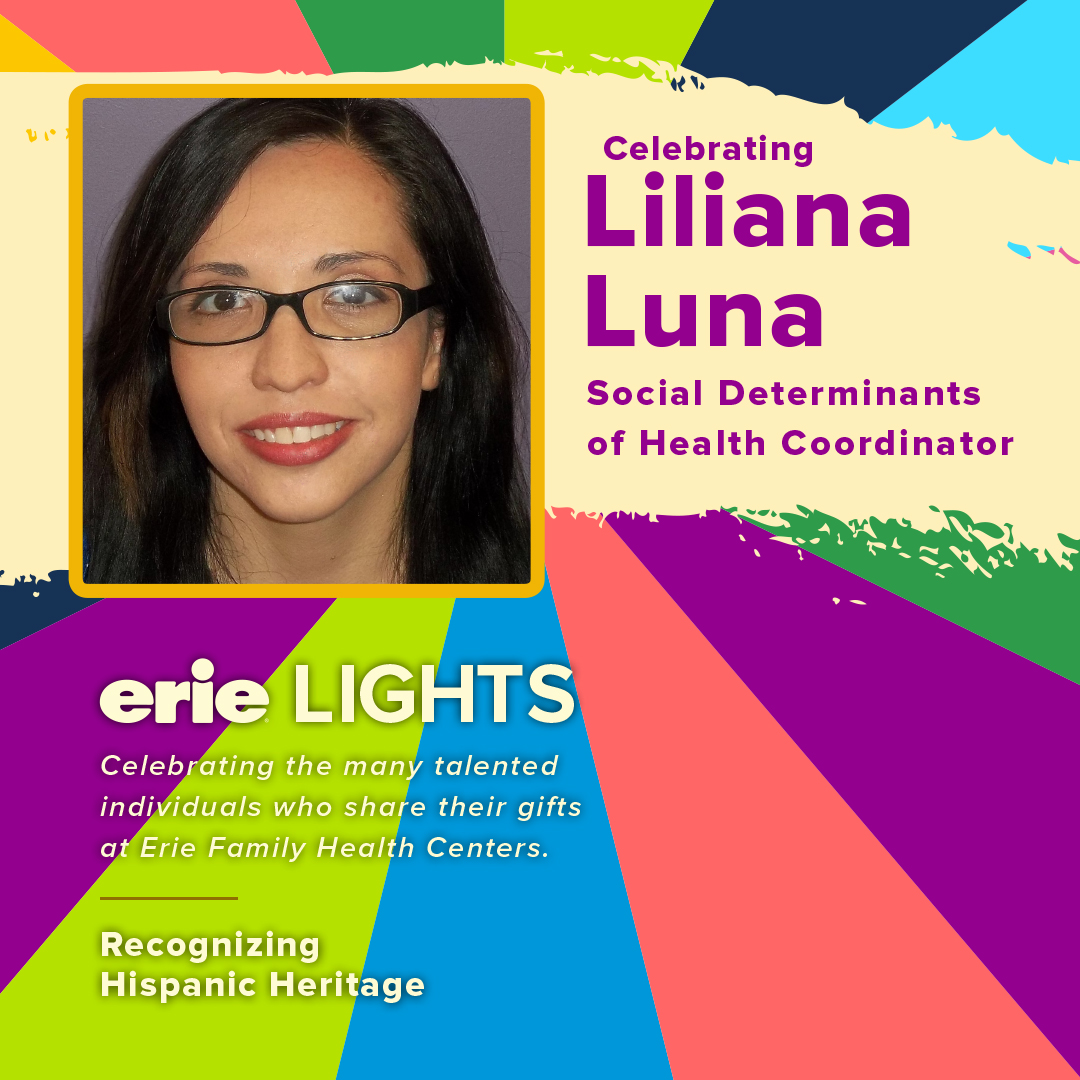 Liliana Luna started at Erie in 2014 as a PBA. Since then, she has obtained a degree in health management at School and now serves as a Health Reach Coordinator. Outside of her work at Erie, Liliana teaches her daughters about their culture and continues to use her cultural knowledge to assist the needs of Erie patients. "Understanding my own culture opens the opportunity to understand other cultures as well," said Liliana. "I work hard to provide tools to my staff, so they can be ready to provide information, communication, and education to our Erie patients." 
Can you give us some background on your family heritage? 
I was born in Mexico; I am the youngest of 10. I emigrated to the (United) States when I was 11 years old. I spent my childhood in a small town with 3,500 people. It was a small town. Growing up in a small town, where everyone knew each other and helped each other, was the best childhood I could ever have. It taught me to value community at a younger age and to understand that giving to others involves bringing people together and working together as a single cause. I grew up in a typical Mexican family where the oldest put the interests of the family above their interests, meaning that the oldest started working to support the rest of the siblings so that they would have a better future. My family heritage is gathering. It's gathering at a grandmother's house to enjoy a delicious Sunday meal. 
How did you get started in this industry and what led you to Erie?  
My best friend is who led me to Erie. My friend was pregnant and receiving prenatal services at Erie. I remember her talking about how amazing Erie was and how she felt she was in good hands regarding her prenatal care. I went to one of her appointments with her, and that day I walked into Erie; I felt the care provided to patients from the front desk to the end. Since then, I have seen myself working at Erie. I wanted to be part of that amazing care they provided to Erie patients. Therefore, I started with Erie as a PBA in 2014. Then after that, I pushed myself to finish my bachelor's degree in healthcare management and find opportunities to keep assisting Erie patients.   
What does Hispanic Heritage mean to you, and how has your heritage shaped who you are today?  
Hispanic heritage is not only about culture, food, or language. Hispanic heritage is everything my family provided and shared with me that I'm proud to share with my family, which is working together. As an immigrant, I treasure the culture and values inherited from my parents and take pride in being able to pass them on to my children as first-generation Americans, so they will never forget their heritage. I am proud of my roots that taught me and shaped me. 
How do you feel you are breaking barriers in the workplace and in healthcare?  
I feel that I'm breaking barriers by coordinating and integrating care to our Erie patients, such as scheduling patients and determining the patient's specific needs by understanding their culture. Understanding my own culture also opens the opportunity to understand other cultures. Therefore, I work hard to provide tools to my staff, so they can be ready to provide information, communication, and education to our Erie patients. 
How do you enjoy your free time spending?  
I enjoy hiking. I try to spend my free time outside and show my daughter the amazing things nature can offer. When walking is impossible, I love spending quality time with my family by cooking, teaching them how to make enchiladas, or having movie time. I have a 12-year-old who sometimes asks me questions about my family roots and how it was for me to live over there (Mexico). It's also time for us to tell stories about my childhood experience.   
Name three elements of your culture that are most important to you. 
My three most important elements are beliefs, values, and community beliefs. It shaped me to trust, have faith, and be confident in who I fully am. Values because they taught me what is good, what is wrong, and what is worth fighting for. The community represents who I am, which is giving to others.   
What is something about you that not many people know?  
Not many people know that I'm the youngest of 10. My oldest brother is 63 years old. So, when talking to friends, I told them, 'Hey, I have a brother who's 63 years old. That's their parents' age. My mom is 80 years old. It's shocking for them that I come from a family where I'm the youngest of 10.   
Who has been your motivation in life?  
So indeed, my greatest influence is my mom. Understanding that she was limited with so many things at a young age and understanding how, even with her limitations, she worked so hard to provide for her family put me in a perspective of how to understand her better and that I admired all her hard work. That influenced me not to limit myself or my abilities. 
What is your favorite Fall activity? 
In the fall of 2020, we started collecting leaves of different colors and making art out of them. We love going and letting the kids explore different types of leaves and colors and put them together. We take a bag, where they put whatever leaves they'd like on this huge canvas. It's our favorite thing as a family to do in the fall. It's so cool. It turns out to be beautiful.