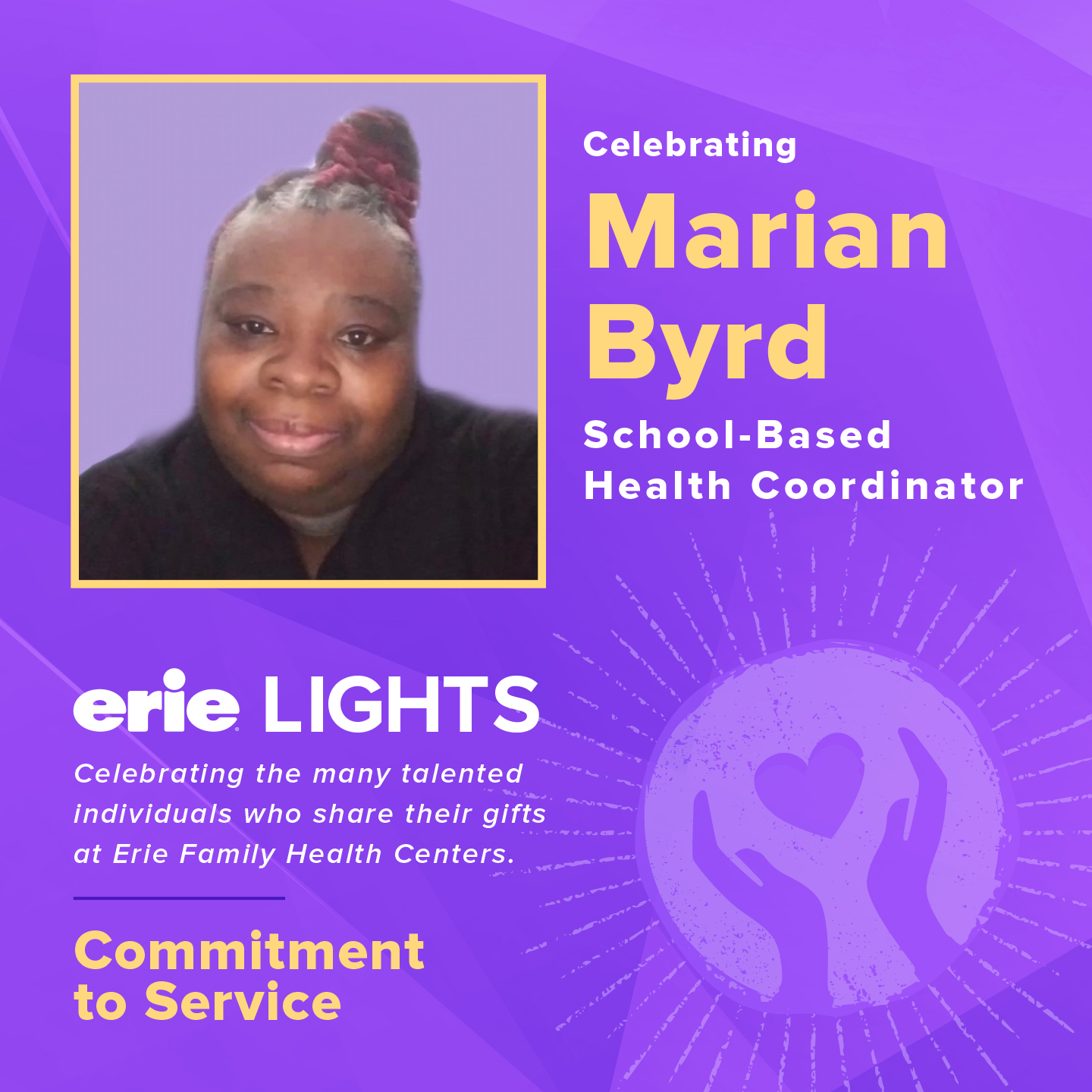 In her 17-year career at Erie's school-based health centers, Marian Byrd has gone above and beyond to serve the patients at Erie and a variety of community members.
Volunteering at her children's schools, establishing a health food market at a local school, and working to ensure that the children in her community were receiving gifts during the holidays are just a handful of the amazing things Marian has done to better the lives of those around her.
"In my mind, I don't feel like it's something to be recognized," Marian stated. "I'm just doing it because I like to think about what I would do with my family. But It's great to work for this organization. I appreciate Erie helping me grow as an adult woman that didn't quite know what she wanted to do in her life."
What brought you to Erie?   
I started as a parent volunteer at one of the first school bases, we had, Frasier Elementary. A social worker introduced me to AmeriCorps and asked if I wanted to join the service program. I worked for AmeriCorps in 2002 and 2003, and when that ended, Erie offered me the position of linkage coordinator for the school base, so in 2004, I started with the school-based health center.
What does service mean to you?  
Service means using every opportunity to change communities. Every day should be a day of service. We should be doing this every day, not just one day. But it's just broadening those opportunities and taking advantage of them to help the community.
What inspires you to help others?  
My team, who cares about the patients and their health, inspires me. The patients also inspire me. Anytime you can take ownership of your healthcare, that inspires me. That lets me know that we are doing a great job when patients want to come back constantly and when patients tell others to come to see us. I'm so inspired by the Erie organization, all the policies and implementation they put in place for us to serve patients, and how the patients reap its rewards, like good health care. It is a right, not a privilege.
Can you walk us through a day of the life of a school-based health coordinator?  
I manage the PBAs to help educators and work with team leads. I work with the medical director, and I work one-on-one with the providers. I make sure that everybody has what they need to do their job. It is a great thing to do. By building those partnerships with the schools, and the administration, we can ensure that our students are healthy, and kids stay in school.
What has surprised you most about your position and working at Erie?  
I'm not surprised about anything because the organization is always forward-thinking. This organization is patient-oriented and employee-oriented.
You've worked with a lot of people throughout your career. Can you tell me about a time when a team member or a patient inspired you?  
COVID was a big hit for us at school based. We wanted to ensure families could still have that togetherness, so we got the team together and donated board games for families to have something to do over winter break.
There is a member of our team that inspires me. Susan Kurtenbach inspires me every day. Susan is so compassionate and so empathetic. She wants the patient to get the services they need, and she will involve all of us to make sure that the patient receives the appointment. If they're having difficulties getting something done to help them have a healthier life, she will seek me out to help that patient and see what we can do for them. I applaud her every day for the job she does with her patients. And they love her.
You started as a volunteer at your child's elementary school. Do you still have young kids?  
My son is 34, my daughter is 31, and my baby daughter is 28. They are still Erie patients. They've been Erie patients since they were three. My oldest daughter works for the referrals team, and my baby daughter is a Pac trainer.
They're following in their mother's footsteps.
Do they also have the same spirit of volunteering as you do?  
Yes, I've taken them (to volunteer) throughout their life. When they were growing up, we would volunteer in different communities because I wanted to broaden their insight on providing services for people of different cultural backgrounds and not just people that look like you. I exposed them to a lot of that, and they continue to do it in their daily lives.
What is the best professional advice that you've ever received in your career?  
To continue to be me. To continue to grow in my position and have a wealth of knowledge. They call me the go-to person at school-base. If they don't know, they come to me; if I don't, I find where to get it. That is the most professional advice given to me - continue to grow and have a wealth of knowledge.
If you could wake up one morning with a new skill, what would that skill be?
If I woke up with a new skill, I would like to be able to work in medical care. If I had the talent to be a medical doctor or provider, I would love to do that because being able to help somebody stay healthy is just amazing. It's incredible when you have that knowledge and those skills to work with someone on staying healthy.
What do you do to unwind? How do you relax?  
I turn everything off. I take a 15-minute break and focus on breathing and relaxation exercises. Our BH (behavioral health) trauma-informed person does these exercises with us. I tried some of those. I take 15 minutes to ignore my phone and not talk to anyone. I take 15 minutes to reset myself so I can then be able to have fun with my family and things like that.
What is your favorite book?   
I've been reading Michelle Obama's 'Becoming', the latest book she's released. My daughter bought it for me for Christmas.
What is something that most people don't know about you?  
Most people don't know that I'm very shy. I like recognition, but I am quiet about it because I'm doing work that should be done. It's great to be recognized for it, don't get me wrong, but that's the work I should already be doing. I shouldn't be in this position if I can't do that work. I also love to barbecue. I'm always on the grill.
What's your favorite thing to barbecue?  
Ribs! They must be tinder. I have my secret sauce and other things to keep it moist.
What is something that you're personally looking forward to doing in 2023?  
I'm in a class to get my BA in Human Services at Southern New Hampshire University with child and family concentrations. This will be my third year. I'm looking forward to continuing and graduating in 2024.