A healthcare home for teens and young adults.
Erie Teen Center is Chicagoland's oldest and largest comprehensive health center for teens and young adults. Because we know that being a teenager isn't always easy, we're here to help you with a wide variety of services, including low-cost contraception and counseling.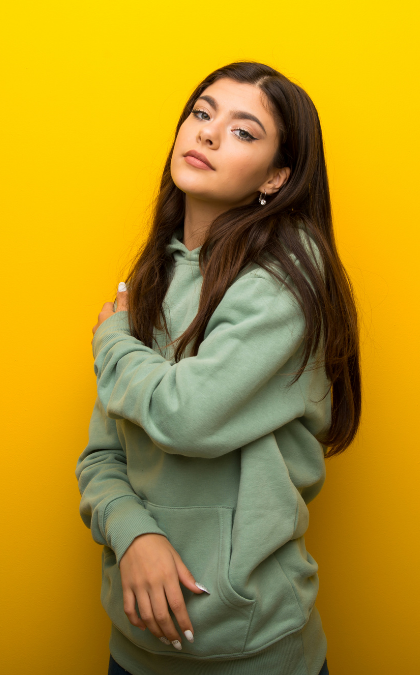 Annual check ups
Illness or Injury
School and Sports Exams
Vaccinations
Any concerns you may have about your  health
Due to COVID restrictions, walk-in testing is not available. Please call for appointments and testing.
Telehealth visits provide you with an opportunity to see your medical or behavioral health provider from home. Through these visits you will receive the same quality care you are accustomed to receiving from Erie.
Telehealth and in-person visits are billed in the same way - and Erie always serves you regardless of insurance status or your ability to pay. Don't have insurance? No worries. Click to learn more about our Sliding Fee Scale program.
The Teen Center offers confidential STI/HIV testing. You do not have to be an established Erie patient to receive testing. 
Don't worry about money, either. If you are unable to pay, we have resources that will help to pay for your testing.
Due to COVID restrictions, walk-in testing is not available. Please call for appointments and testing.
Your confidentiality is important to us. If you are 12 years of age or over, in the state of Illinois you can see a provider for the following services without needing the consent of a parent or guardian. 
If you have insurance and are seeing one of our providers for confidential treatment, we will make sure that your insurance does not notify your parent or guardian of your visit. Please call us at 312.666.3494 if you have any questions about confidentiality.
Contraceptives and pregnancy testing
Emergency contraception
Emergency care
HIV
Mental health care
Sexual assault
Sexually transmitted diseases
Substance abuse care
Our top priority is making sure that you feel comfortable and safe at the Erie Teen Center. We are here to answer any questions you have about your pregnancy. After testing, counseling with one of our trained staff members is available.
Due to COVID restrictions, walk-in testing is not available. Please call for appointments and testing.
Everyone experiences hardship, anxiety, or friend or family troubles at some point in their lifetime. If you need counseling or support, Erie Teen Center has behavioral health therapists on site. You can choose to see a therapist during your medical visit, or schedule a separate time to meet. 
We also have support groups for anxiety and depression. 
We have health educators on staff to talk to you about any concerns you may have about nutrition, managing your illness, services available at Erie and in the community, anxiety, depression, smoking cessation, and more.
To learn about the ways to get a COVID Vaccine at Erie, click here.
To learn about COVID Vaccine booster doses, click here.
To learn about COVID Testing, Isolation and quarantine guidance click here.
Call 312.666.3494 to make an appointment today.
Not a phone person? No problem. Use your myeriehealth.com account to request an appointment.
If you don't have a myeriehealth.com online services account, just visit the front desk at any Erie location to register for myeriehealth.com. You'll be able to request an appointment and contact your care team in no time.
All you need is an email address to get started.
Erie Teen Center
2418 W. Division Street
Chicago, IL 60622
Frequently Asked Questions & Resources
In the state of Illinois, If you are over 12 years of age and are seeing a provider for confidential services relating to contraception, pregnancy testing, STI/HIV care, sexual assault, substance abuse, emergency care, or mental health care, your parents will not find out about your visits to the Erie Teen Center. Your visit will remain confidential.
If you have any questions about your confidentiality, please call us at 312.666.3494.
Under the unaccompanied minor law, young people 14 and older are able consent for their own medical care if they are not receiving support from a parent or guardian. 
Please contact the Erie Teen Center at 312.666.3494 to speak to one of our staff about the housing, education, and medical resources we can provide to you.
At Erie Family Health Center we believe health care is a right, not a privilege.  It is our goal to provide high-quality health care regardless of a patient's ability to pay.  At the Erie Teen Center, we accept many types of insurance, and we also have programs that you may qualify for that will cover the cost of your service.
If you are uninsured and eligible for insurance, we have staff that will help guide you through the enrollment process.
But don't let the cost make you nervous!  We will work with you to ensure you get the services you need and make arrangements with you should you have a small balance to pay.
Send us a message with your questions. Not a phone person? Sign up for an account with myeriehealth.com at the front desk of any Erie location. All you need is your email address. Through myeriehealth.com you can schedule appointments, message our staff, and review your test results.
Talk to an Erie Teen Center health educator. Our health educators are trained to answered your questions about every aspect of your health. Ask about seeing a health educator during your visit.
We'd love to hear your ideas about how to make the Teen Center even better! Submit your thoughts to feedback@eriefamilyhealth.org.  
My Weight Tracker
A mobile app designed to help you achieve your ideal weight.
SparkPeople
Nutrition advice, health and fitness tools, and free community resources.
Period Tracker
Track your periods right from your phone.
Headspace
Learn the essentials of meditation with this easy-to-use mindfulness app.
Waterlogged
Increase and monitor your daily water intake through this app.
Bedsider  
The free support network for birth control.
Family Doctor
Health information for the whole family.
Planned Parenthood
Reproductive health care, sex education, and information.
Resource Search Engine
Explore resources like housing help, food pantries, and financial assistance by using our search engine.